Welcome
Applegrove is an eclectic witchcraft and wiccan-based working group and teaching circle in Sydney, Australia.
We formed out of our parent grove around 1996 and started our teaching circle, Circle Of The Hearth in 1998-99.
Applegrove ran public and semi-public pagan gatherings from 1996-2001 as well as organising the Australian Wiccan Conference 2006 with Pagan Awareness Network. Currently we are focusing more on the working group and teaching circle rather than presenting events, however some of us still do present workshops at pagan gatherings such as the AWC and several members are actively involved with helping at the PAN Full Moons.
This web site was set up to provide information on Wicca and Witchcraft as well as to publish some of our rituals and workshop notes.
Please feel free to download our rituals and workshop notes for your personal use. We do however ask that you not reproduce them without permission and acknowledgement of the source.
See our copyright page for more information.
Blessed be
Blayze
News - February 2013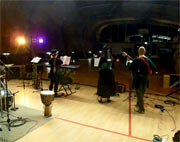 2012 was a busy year for members of Applegrove. 2013 is shaping up to be pretty busy too. See below for some of the things we did in 2012 and some of the plans for 2013.
GATHERINGS & EVENTS:
Eleusinian Mysteries.
Many of us attended Michael's brilliant Hellenic gathering celebrating the Eleusinian Mysteries. We can't copy the rituals here as they Mystery rites. However, Blayze wrote three hymns for the main ritual that can be published. These were based on ideas from the Orphic and Homeric Hymns as well as some experimentation with modes and pentatonic scales. You can listen to the results in the Music section.  The Hymns were to Demeter, Persephone and Hestia and were performed by Gabby, Jobie, Sara and Gede.
Samhain gathering - May 2013
Michael is running a Samhain gathering - in May 2013, which will explore different pagan perspectives on Samhain through a series of interlinked rituals. More information can be found about this gathering here http://www.facebook.com/events/354460274646352/ Applegrove will be presenting part of the ritual.
English Ale
Some of us also attended the wonderful English Ale in Adelaide. It was a fantastic weekend with lots of Morris dancing, Giants and Guisers, a main ritual hosted by Damh The Bard, a mummer's play, Punch and Judy, performances by the hilarious Bygone Error, Damh The Bard and the ever-wonderful Spiral Dance. Certainly an event worth attending.
For information about the 2013 English Ale go here www.theenglishale.org. Here is short video of pagans partying at the English Ale 2012 http://www.youtube.com/watch?v=9Hmjt3vr5gQ
The Australian Wiccan Conference
The Australian Wiccan Conference returned to Sydney in 2012, run by Mark Hepworth and his team from the Pagan Awareness Network. It was wonderful to return to the Island once again and catch up with so many brilliant people. Many Applegrovians attended the AWC with several of them running workshops, helping out with the Main Ritual, Morris Dancing with Black Joak Morris and performing with The Hearthfyre Ensemble. The 2013 AWC will be in the Northern Territory. Details should be here http://2013.wiccanconference.org/ soon.
THE HEARTHFYRE ENSEMBLE
At the 2011 AWC in Tasmania, a certain member of Spiral Dance issued a challenge for Blayze to actually do something with some of the songs and ritual music that she (and other Applegrovians) had written over the years. Thus was born The Hearthfyre Ensemble. After finally fleshing out, finishing and arranging some of the old ritual songs (and writing some new ones), the band made its debut at the 2012 AWC. This did tend to take up quite a bit of Applegrovian time in 2012, hence the lack of updates to the website. Thanks to Mark for letting us play and Matt for the excellent sound.
The Hearthfyre Ensemble is made up of members of Applegrove (although that was never a pre-requisite, we are just a very musical Grove). The line-up was Gabby on vocals and keyboards, Jobie on vocals and pan pipes, Adrianne on recorders, Darius on guitar and djembe, Fiona on viola and violin and Kristie on vocals and percussion. We have uploaded some live recordings from the night (ripped from recordings made on various cameras and iPhones - so apologies for the quality). You can find them under Music. Songs were written by Gabby, Jobie, Kristie and Michael. More songs are currently being finished and arranged and we will be playing at the Samhain gathering in May 2013.
RITUALS
Of course Applegrove was still circling and celebrating the Sabbats. A selection of the 2012 Sabbat rituals have now been uploaded to the Rituals page. Lots of these rituals featured music. All music used has been noted in the rituals. You should be able to find most of it on YouTube and iTunes. If the artist isn't mentioned then it is likely that the piece is an Applegrove original and some version of it should be available in the Music section.
Applegrove also presented a Blue Moon Ritual for the Pagan Awareness Network Full Moon rituals on the Hill. A copy of that ritual is also available on the Rituals page.